Intro to Pilates Equipment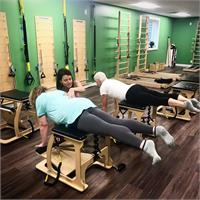 Fascinated with those weird machines in the Pilates studio but not sure what to do with them? Intro to Pilates Equipment will teach you!
Geared toward the new Pilates student, each Intro class introduces Pilates method principles on the Mat, then progresses those skills using spring resistance provided by the Springboard, Reformer, or Chair. Strength training with springs teaches you to work on both the effort and the return while supporting your movement, so that you safely sculpt, tone, and stretch your muscles in each exercise for an efficient total body workout. With Pilates' focus on movement quality and variety over quantity, the effect is that you leave the studio feeling taller and refreshed rather than tired and compressed. Your instructor will teach you how to set up each machine optimally for your body and familiarize you with studio props and protocols so you can confidently move into All Levels Mixed Equipment and Reformer classes when you are ready for more challenge. Our flexible drop in format allows you to learn at your own pace, with a minimum of 5 classes and approval from one of your Intro instructors being required to advance.
Upcoming classes: