Jumpboard-Intermediate Reformer
This class is taught by: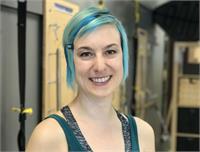 Molly Mitchell received her Comprehensive Pilates certification from Balanced Body University in 2015, studying with Tom McCook, Nancy Myers, and BBU faculty from EHS Pilates Institute in San Francisco. She taught group classes, duets, and private sessions at EHS Pilates and at Rise Bodyworks in Alameda for two years before moving back to Louisville to pursue an additional certification in massage therapy. Molly became a Pilates enthusiast when knee, shoulder, and low back pain threatened her dance hobby and Pilates classes proved an effective antidote and technique refinement tool. She is always seeking to know more about movement and has completed additional education in Foot and Gait Therapy, Pilates for Scoliosis, Pilates for Dancers, Preggo Pilates, and CoreAlign. For Molly, the power of Pilates is in its adaptability to meet you where you are and create a path toward your goals, whether that is walking with ease or training for the circus. As a teacher, her objective is to empower each client to be a wise steward of their own body and connect to the joy in moving well.
JUMP! Into fitness with this low-impact cardio Pilates class! Combining traditional Pilates exercises on the Reformer with ballet footwork on the jump board, this class will rev up your metabolism and get you in shape.
Upcoming classes: