Intermediate Reformer/Tower
This class is taught by:
Claire is a PMA®-certified Pilates instructor and a licensed Buff Bones® instructor. She has been teaching Pilates since 2001. During her 11-year career as a dancer with the Louisville Ballet, she discovered the benefits of Pilates while recovering from a back injury. Claire works with people of all ages and fitness levels. She has experience working with clients who are dancers, runners, and triathletes. Claire also works with people who have back, neck, and shoulder pain. Claire's goals for her clients are to teach them a fun and safe full body workout that focuses on biomechanics, alignment, and posture.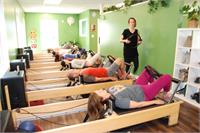 Mixing up the original choreography utilizing both the Reformer and the Towers from the Cadillac.
Upcoming classes: